About us
Go directly to: What is Zen? | Activities | Our tradition | Gallery | Contact
Zenbuddhistiska Samfundet's main purpose is to make group practice of zazen – Zen Buddhist meditation – possible for anyone who is interested. Our main practice center, Zengården, is located near Arboga. We also have city centers and Zen groups in Sweden, Finland, Germany and Scotland. Our main focus is the practice of zazen, but we do much more than that. You can read about us and what we do here.
Buddhism was started in India around 2500 years ago, by Siddhartha Gautama, who is usually referred to as the Buddha (which means one who is awake). Zen is a branch of Buddhism which arrived in Sweden via China and Japan.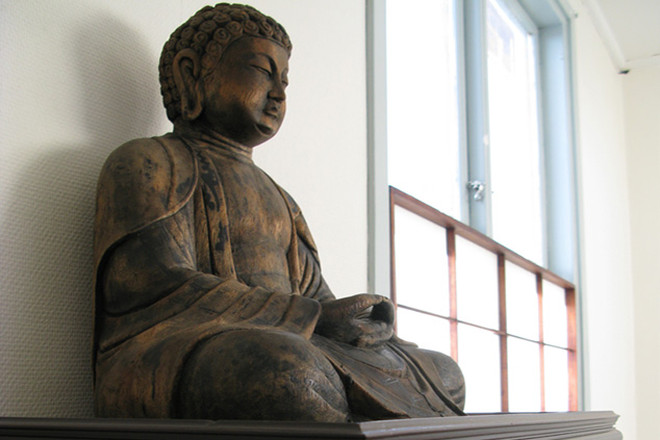 The word Zen comes from the Sanskrit word dhyana, which means the focussing of the mind, or simply, meditation. Sitting meditation, which in Zen is called zazen ("za" means to sit) trains us to be more present and focussed on the here and now. We learn to let go of old patterns, ideas and thoughts, and instead allow everything to be born anew in each moment.
Through Zen meditation we can break through our illusions and experience the world as it truly is, beyond all concepts, ideas and dualism.
In Zen it is said that everything is practice. This means that we try and continue our Zen meditation even when we get up from the meditation cushion. In this way, we learn that it is possible to be open and present in everyday life. This can be hard in today's stressful world, which only makes it all the more important to apply ourselves actively to the practice.
Zenbuddhistiska Samfundet's activities mostly take place at our city centers and at our main temple, Zengården. All the centers have regular sittings, but we also have a lot more to offer.
Introductory courses
All our centers hold introductory courses to the practice on a regular basis. These can either be short introductions in one evening session, or longer workshops which take place over several days. It is also possible to become a trial member at any of our centers for a two-month period.
Our city centers offer regular Zen meditation and the larger city centers offer several sittings a week, where members and trial members are welcome to come and practise zazen with the group. One-day sittings are also offered regularly.
Our centers also engage in other activities, such as ceremonies, lectures, hosting school field trips and more. The best thing to do if you would like to know more is look at the centers' own websites.
Here are links to our city centers:
Zengården and full-time training
Zenbuddhistiska Samfundet also has a retreat center called Zengården, located in Finnåker (near Arboga). Full-time Zen training is offered there. It is possible to stay there for longer periods or just for a few days and various courses and other activities are offered there. Please see Zengården's website for more information!
Meditation Retreats
Meditation retreats are held regularly at Zengården. Each year there are nine sesshins. Sesshins are in intensive period of silent meditation lasting four or seven days. Participants are able to meet the teacher daily to receive guidance on their zazen. The retreats include short work periods each day. In addition to sesshin there are two weekend retreats each year and a Zen beginners' retreat Full details are on the Zengården website.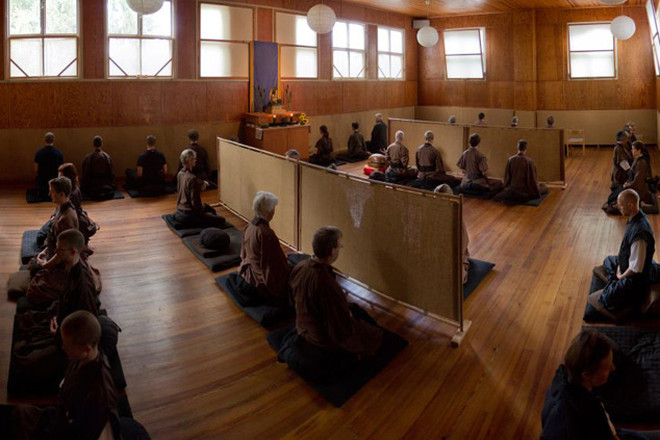 Zenbuddhistiska Samfundet was founded in 1982, in conjunction with Roshi Philip Kapleau's first visit to Sweden. Philip Kapleau founded Rochester Zen Center and is famous for having written the first book in English whcih describes how to do Zen practice, The Three Pillars of Zen.
Our teachers
Sante Poromaa Roshi has been practising Zen since 1983 and teaching full time since 1998. He started practice as a student of Roshi Philip Kapleau, and he later became a student of Kapleau's successor, Roshi Bodhin Kjolhede.
Kanja Odland Roshi started Zen training in 1984, as a student of both Roshi Kapleau and Roshi Kjolhede. She has been teaching full time since 2001.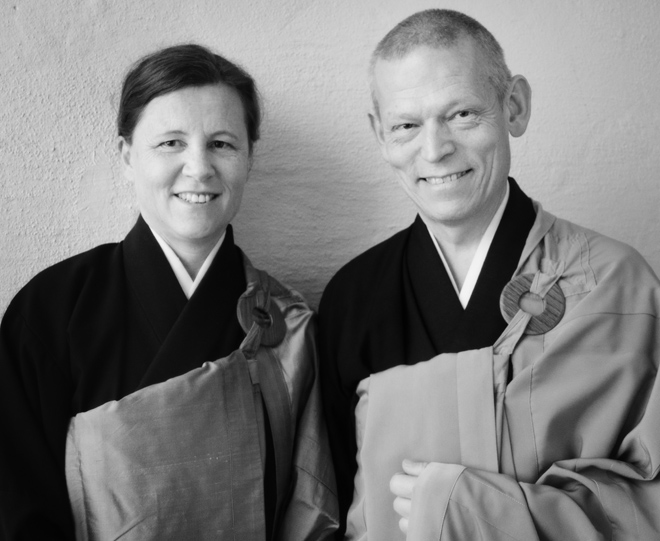 The teachers emphasise the importance of direct personal experience – students are encouraged to investigate the nature of reality for themselves, through zazen. Yet they also draw on the rich literature of Zen, including three major koan collections (The Mumonkan, The Blue Cliff Record, and the Book of Serenity), Buddhist sutras and texts from the Zen tradition. Both also read widely in other traditions and disciplines. They teach and give lectures about the relevance of Zen in the wider context They both participate in public panel discussions and advisory groups.
Sante Roshi has published three books, Bortom Alla Begrepp (only available in Swedish), The Net of Indra and The Eightfold Path in Zen. Kanja Roshi has written the book Vandring på spårlös stig (only available in Swedish). You can purchase books at our webshop. You can find The Eightfold Path in Zen as ebook at amazon.com.
You can contact Zenbuddhistiska Samfundet most easily by phone, email or post via Zengården.
Zenbuddhistiska Samfundet is a registered charity, org number: 802011-6318. It is a member of Sveriges Buddhistiska Samarbetsråd.